Ok because so many ppl have problem with this i will xplain what you need to do.
first of all buy the god damn software :/ and you will get the key.
BUY XPLODER ULTIMATE EDITION
XPLODER SITE
now after the installation open the software.
1.- search on internet or in the database of xploder for the game you want. and download,
if you have downloaded a save previously, put that save in an USB under
USB---->PS3/SAVEDATA
make sure you are using the same game ID region.
for diferent region saves check the next page of this tut. but keep reading this
NOW
if you dont see your save click right button and refresh your mem card
and in xploder you will se this. I.E MVSC3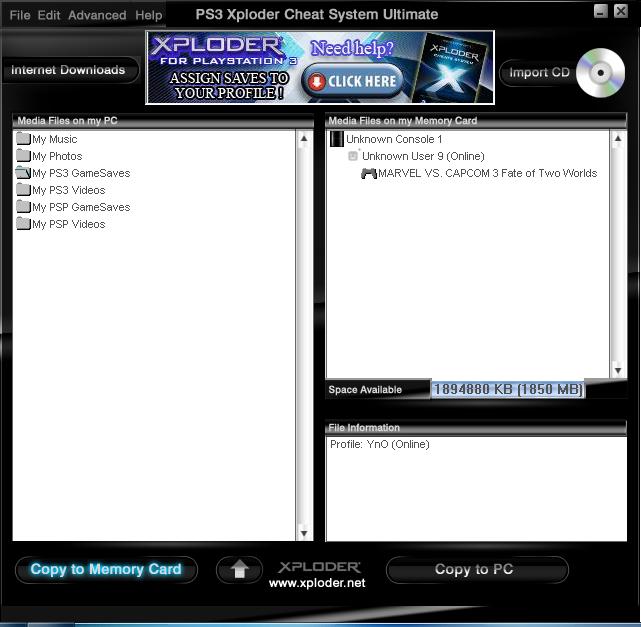 now this is your "hacked" save OK??? it means this its not your save...[for now ]
2.- you only need to "drag and drop" the save you want in your PC drop that save over "my ps3 gamesaves" move it. now you see this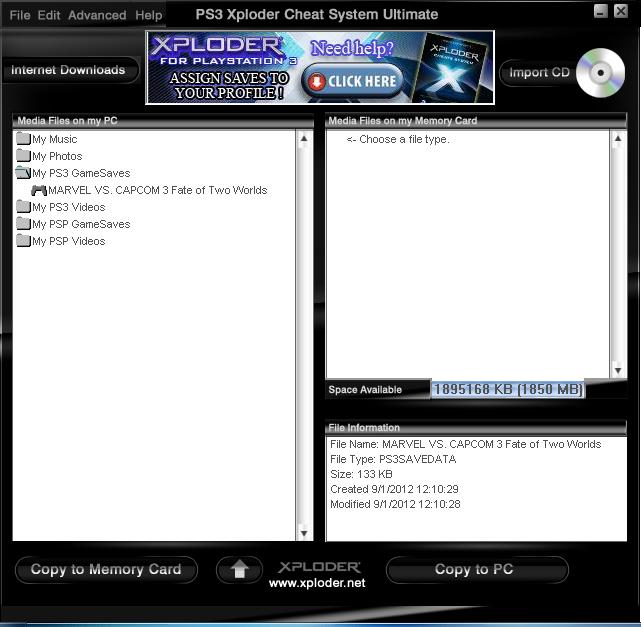 3.- now copy "YOUR SAVE DATA" directly from your PS3 and put it in the same USB if you want
now you see two saves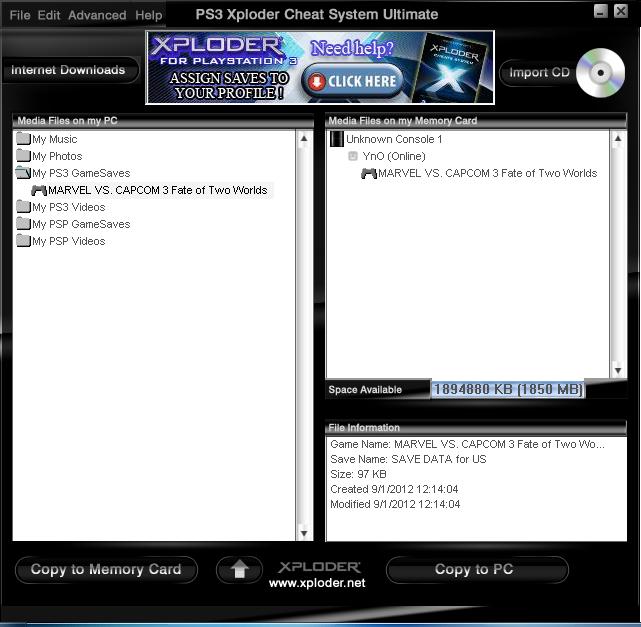 4.- now, make sure that you save data say (online) that means its atached to a real PSN user
and now do the same, but backwards
5.- Drag and Drop, drag the "other save" from "my ps3 gamesave" into your save "media files in mem card"
and overwrite the existing one.
6.- take out your USB and go to your ps3 the save now must work with your PSN ID user.
thats all. nothing more.
if you get errors when you copy the save into your PS3 like data corruption or user from another ID........
then YOU DID SOMETHING WRONG, THE SOFTWARE WORKS WITH ALL THE SAVES
try again, and read carefuly
Admin




Posts

: 394


Points

: 55868


Reputation

: 8159


Join date

: 2011-02-02


Age

: 29


Location

: Earth





Similar topics
---
Permissions in this forum:
You
cannot
reply to topics in this forum